HUGO BLANCO,
DEEP RIVER
Portrait of the "Peruvian Che Guevara", a famous Trotskyist guerrilla and legendary peasant leader of the sixties: Hugo Blanco, who preferred to deconstruct his leadership and to encourage self-government becoming an anonymous activist: Hugo Indio.
Starting with a journey to the forgotten jungle village where Blanco's fight and fame began, the film director looks for the traces of the young black-bearded man with a gun on his shoulder and raised fist shouting "Land or Death!" and finds the traces of the indigenous peasant movement.
In the second part - in the aftermath of the Peruvian Internal Armed Conflict - she meets the tireless Hugo Blanco, her father's revolutionary hero, in person. He is now a white-bearded indigenous and environmental activist: Hugo Indio.

The film is a diptych divided by a hiatus of silence and mourning for the rivers of indigenous blood that flowed when a generation's dream, the one of the armed revolution, turned into a nightmare.
International outreach
The world premiere took place in the International Competition at the One World International Human Rights Documentary Film Festival in Prague on the 12th March 2019.

This film has been in the official selection at the biggest indigenous film festival worldwide: ImagineNATIVE in Toronto, Canada. And it has been awarded Best Feature Documentary at the International Documentary Film Festival in Uruguay ATLANTIDOC. Festival list.
The Peruvian premiere took place in August 2019 at the
Festival de Cine de Lima.

Currently, the film is traveling in an alternative rural distribution in Peruvian territory thanks to a project funded by the Film Section of the Peruvian Ministry of Culture, Dirección del Audiovisual, la Fonografía y los Nuevos Medios (DAFO).
More info in Spanish, here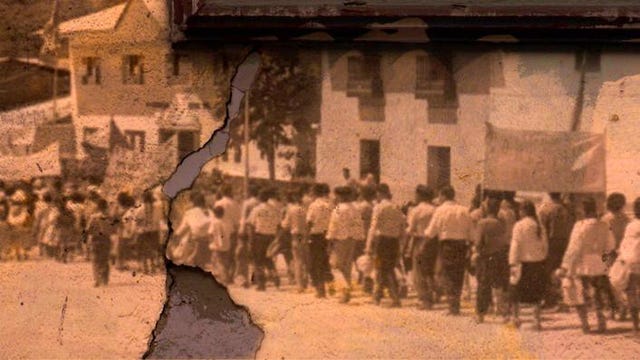 TECHNICAL INFORMATION
Original title HUGO BLANCO, RÍO PROFUNDO
English title HUGO BLANCO, DEEP RIVER
Countries & year Austria, Peru, 2019
Length 108'
Director & producer Malena Martínez Cabrera
Sound Omar Mustafá, Guido Deniro; Carlos Pino
Image Gustavo Schiaffino (dop); Carlos Sánchez Giraldo,
Aureliano Lecca, Omar Mustafá, Malena Martínez
Editing Malena Martínez , Alexandra Wedenig
Dramaturgical advice Alejandra Almirón, Dieter Pichler, Jaana Puhakka
Development Marta Andreu, Nataly Villena, Catherine Bernstein
Shooting format HD 16:9, 16mm, Mini DV 4:3 Color
Screening format Spanish: DCP, File ProRes, Blu-Ray, DVD
English, German, French: ProRes
Audio Dolby Stereo 5.1
Languages Spanish, Quechua
Subtitles Spanish, English, German, French
Project development Archidoc (MEDIA, La Fémis)
Doc Markets Agora Market, Thessaloniki Film Festival, 2019
Media Library, Visions du Réel, 2019
East Silver Market, Jihlava International FF 2018/19


Graphic designs in social media: Chris Yong-García, Juan Pablo Campana, Katya Zevallos.
DIRECTOR
MALENA MARTINEZ CABRERA

Peruvian filmmaker, photographer and cultural journalist based in Vienna, Austria, since 2000. Master in Creative Documentary (University Pompeu Fabra, Barcelona, 2007). Artistic Photography (Schule Friedl Kubelka, Vienna, 2014). Mag. Romanic Philology (University of Vienna, 2006). Bach. Literature and Linguistics (Universidad Católica, Peru, 1999). Mentoring program with Ruth Beckermann (FC Gloria, Vienna, 2015). ARCHIDOC alumna (La Fémis, 2015). Aristoteles Workshop (Arte TV, Romania, 2009). Cinematography WS (ESCAC, Barcelona, 2009). Music studies (Conservatorio Nacional, Lima). Member of FC Gloria (Film u. Frauenvernetzung). Member of EDN (European Documentary Network)


FILMOGRAPHY
2019 Hugo Blanco, Deep River (108')
2017 Arcane (1'14'')
2017 Cinco trotskistas y Hugo Blanco (6')
2016 Diálogos que son monólogos (2')
2015 Archetype (1'15'')
2014 Hugo Blanco y el periódico Lucha Indígena (15')
2009 Felipe, come back (67')
2002 Ramiro en Viena (10')
Alternative Distribution in Peru
Funded by Ministry of Culture Peru
Film funded by
Federal Chancellery of Austria